Ditty Bag 2.0 The Everything Bag PDF Sewing Pattern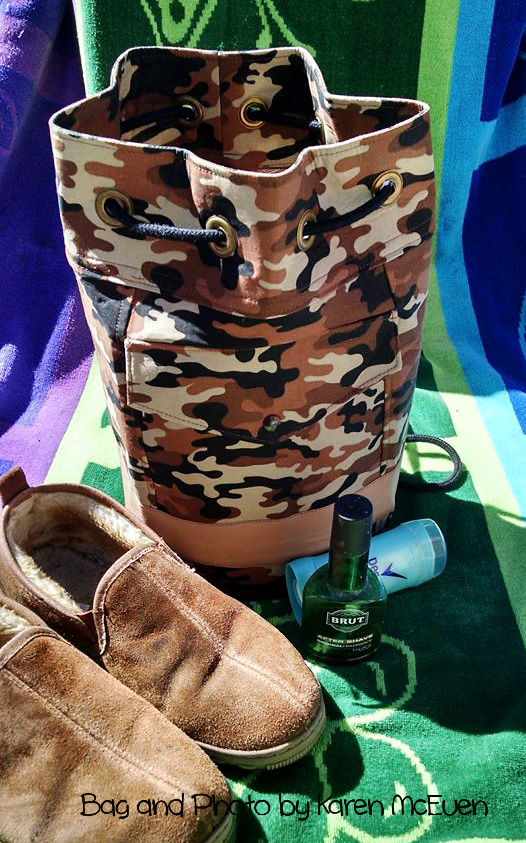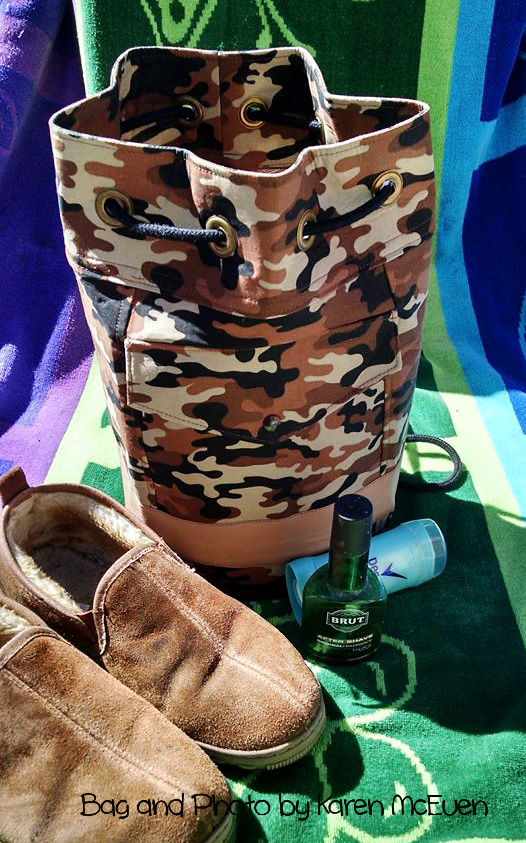 Ditty Bag 2.0 The Everything Bag PDF Sewing Pattern
Pattern Description:
The Ditty Bag 2.0
The New Everything Bag!

The ideal "small stuff" bag, shower bag, beach bag, gym bag, toiletries bag… to hold baby stuff, doggie stuff, travel stuff… for whatever your ditty is.

The Ditty Bag now comes in a large size to hold all your little ditties and a few big ones.

Perfect for campers, hikers, backpackers, geographers, photographers, painters,
woodworkers, surfers and musicians, fisherman…anyone who has stuff to carry!

The Ditty Bag is lined with vinyl so the interior easily wipes clean to make it perfect for wet bathing suits, bottles that may spill, or your toiletries during travel. Lots of vinyl pockets go all the way around the inside of the bag to keep things neat and organized.

What Ditties will your Ditty Bag hold?

Easy drawstring pull closure with detachable strap ends to carry it over your shoulder, backpack style, crossbody, or to hang it up on a tree, closet door hanger, in the car…just about everywhere.
Measures:
Small: 14" tall and 9" deep.
Large: 17" tall and 11" deep.
Plenty of room for everything!
Materials Needed:
FABRICS AND INTERFACINGS:
¾ yard (1 ¼ yards for Large) 44" wide quilting cotton weight Main Fabric
¾ yard 44" (1 ¼ yard for Large) wide quilting cotton weight Lining Fabric
¾" yard (1 ¼ yards for Large) 45" Fusible Pellon 809 Decor (heavier non-woven) Interfacing
Small Piece Ultra Firm Fusible Stabilizer Peltex 71F- to measure at least 10" x 10" (12" x 12" for Large)
½" yard (1 yard for Large) 54" wide 16-20 Gauge Clear Vinyl
ZIPPERS:
1- 10" (11" for large) # 3 Nylon Coil Zipper
HARDWARE:
1- ½" D-Ring
1- 1" Swivel Hook, or 2- ½" Swivel hooks
2 ¼ yards of 3/8" Twist Cord Rope (Optional)
10- 7/16" (Extra Large) Eyelets (Optional)
1- Small Magnetic Snap, Kam Snap, or snap of your choice for the flap.
OTHER:
Coordinating thread
Removable Fabric Marker (I recommend a Frixion gel pen as it can be removed by pressing with an iron.)
Microtex (Sharp) Needle 80/12 –Recommended for topstitching.
Fabric glue or a temporary bond fabric glue stick (optional).
See lots of photos of this and all my bags by visiting my facebook page: www.facebook.com/RLRCreationsSewing
Feel free to sell your bags made with my pattern but please do not sell or share the pattern.