24 WATER SLIDE NAIL ART DECALS * REALTREE INSPIRED BLAZE CAMO * FULL NAIL COVER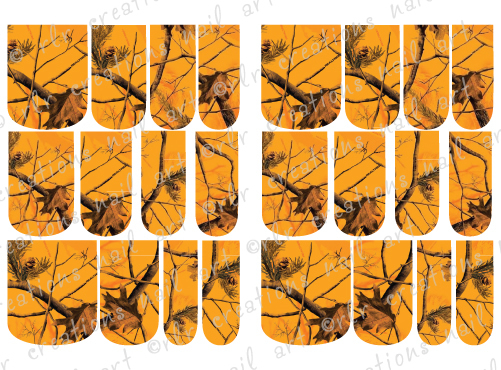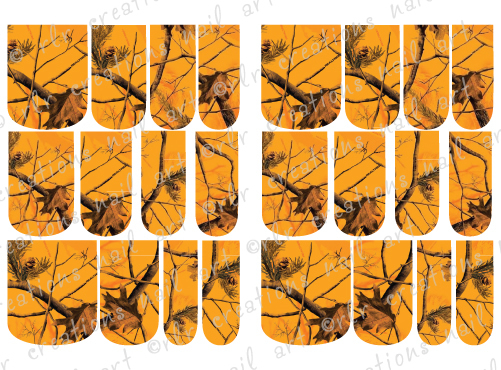 24 WATER SLIDE NAIL ART DECALS * REALTREE INSPIRED BLAZE CAMO * FULL NAIL COVER
Full Rich Colors
Full Wrap Water Slide Nail Decals.

A Great way to create a unique mani.
24- Full Wrap Waterslide Nail Art Decals for a complete nail cover. Comes in 12 different sizes to assure a perfect fit **including two large sizes to fit the big toe! Use the extras later for great nail accents.

Nail Wraps are approx 1' high and range from 3/4" wide to 5/16" wide. Unlike other full wrap nail covers my sets come in a range of sizes so you can save time needing to cut each to fit your nail perfectly and can simply select the right size for each of your nails!!

Apply over base coat, no color needed underneath to get the full color range of the decals. Fun and easy to apply. Since these are water slides you can slide the around until you get the right placement without damaging the decals nor will you have to worry about glue or sticky residue left on your nails after wearing them. Super thin so they will conform to the shape of your nail without being bulky.

Step by Step instructions are included with each order. I also have a short video tutorial .

All of my decals are printed with premium inks on high quality paper, so the colors will always remain clear and vivid.

Each set comes in clear plastic re-sealable bag for safe shipping and storage. Instructions for applying are included.